> In all the previous editions of this study, carried out in 2003, 2007 and 2012, the results obtained placed Oleoestepa as the brand of extra virgin olive oil with the highest quality on the market.
> The study presented by the OCU consists of the physical-chemical and sensory analysis (panel test) of 41 brands that hold the category of "extra virgin olive oil" found in supermarkets nationwide, with the Oleoestepa brand ranking the highest.
The latest study carried out by the Organization of Consumers and Users (OCU) which is set to officially publish on Monday October 29th, ranks the quality of the top selling extra virgin olive oils in Spain, once again placing the Oleoestepa brand at the top with the highest quality in the national market.
To carry out this study, the OCU has taken 41 references of the top selling extra virgin olive oils, submitting them to a physical-chemical and sensory analysis, also evaluating the information provided in their labels.
This is a study that the OCU performs every 5 years, the previous editions having been performed in 2003, 2007 and 2012. In each year, Oleoestepa was awarded the first position in the quality ranking among the bestselling extra virgin olive oils in the national market.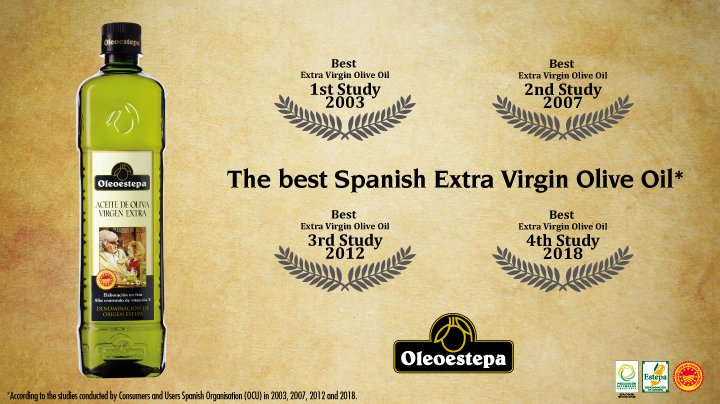 The extra virgin olive oil from Oleoestepa is found to have an excellent rating in the sensory analysis, very fruity with slight well-balanced spiciness and bitterness. Oleoestepa oils have an unbeatable result in their use in kitchens for both raw preparations as well as stews and sautéing. Oleoestepa oil has a fruitiness reminiscent of freshly cut grass and apple, which, along with medium intensities of spiciness and bitterness, exemplify the most important variety of olive in the Estepa region, the Hojiblanca. The high quality of this oil is guaranteed by the Estepa Protected Designation of Origin, with the most demanding certification requirements in the entire European Union.
Although the Oleoestepa brand product took home the top rating, it is important to note that 3 out of the top 4 ranked extra virgin olive oils in this study were also produced and bottled by Oleoestepa.
This new recognition of the OCU highlights the business model of Oleoestepa, which is based on the search for maximum excellence, exclusively producing extra virgin olive oil in which quality exceeds quantity, reinforcing their position as the leading cooperative producer of high quality extra virgin olive oil worldwide.
The complete study can be found here:
https://www.ocu.org/alimentacion/alimentos/noticias/resultados-aceite-oliva-virgen