Oleoestepa is a cooperative project in which no one is useless. All the people who make up the extra virgin olive oil value chain at Oleoestepa are crucial to the success of everyone. The recent incorporation of women in this value chain has been a key factor in achieving Oleoestepa's recognition as the leading producer of high quality extra virgin olive oil.
We are starting a series, Cooperative Women's Stories, with which we want to make visible the relevant presence of women in Oleoestepa and value their key contribution to this cooperative project.
Isabel Molinero Moreno
Head of the Accounting and Finance Department at Oleoestepa (Seville).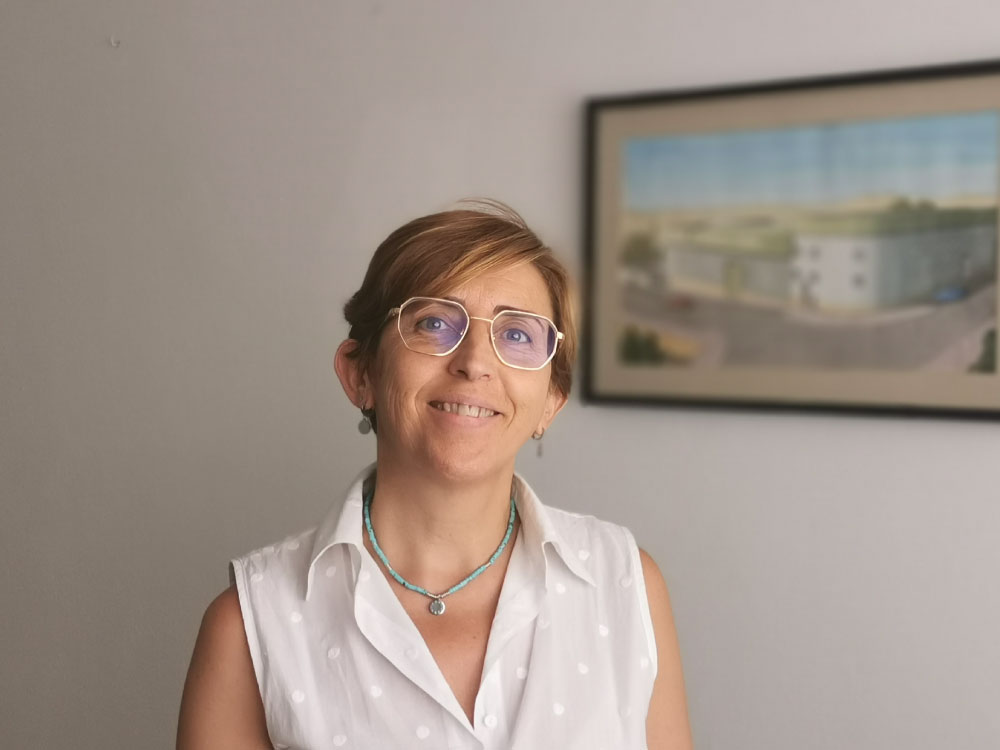 Her connection with the world of the olive grove runs in her family. The daughter of a partner, although it was her father who was in charge of everything related to the field, it was clear to her from an early age that working in the field is very hard work, but also very rewarding, especially when you are part of a cooperative project that serves as a socio-economic engine for a region.
After a first step in the administration department of a chemical company, Isabel began her professional relationship with Oleoestepa in 1993 in the accounting department, being the only person in this department. "At that time a series of subsidies were granted to the cooperatives for a greater professionalization of human resources, taking advantage of this opportunity Oleoestepa as its associated cooperatives to expand their workforces in the technical areas" recalls Isabel.
At that time, it was very difficult for women to obtain management positions. In fact, Isabel participated in the selection process for the position of manager of a cooperative in the region. "Despite the fact that she met all the requirements, she was told that they did not see fit for her to fill the position, being a woman and so young. Two months later they called me from the same cooperative to offer me another position in the cooperative, but fortunately I had already started working at Oleoestepa," she recalls with a certain sarcasm.
He confesses that, although he considered it an injustice at the time, "life takes many turns and always offers you new opportunities. In my case, looking back, I have come out a winner, because in these years Oleoestepa has grown a lot as a company, allowing me greater professional development".
The company's growth has been accompanied by an increase in personnel in the administration and accounting areas. He confesses that "although there have been changes in the offices and in the people, at the end of the day we are still doing the same thing, although obviously on a much larger scale and with the invaluable help of digitalization".
In its beginnings the company did not have its own facilities, carrying out its activity in rented facilities owned by one of the associated cooperatives. "There were only 7 workers in Oleoestepa, between the office, laboratory and packaging plant. Nothing to do with the more than 60 people that make up the company".
During these years, despite having worked surrounded by men, she considers that she has never had any obstacle in her professional development in Oleoestepa, nor has she felt uncomfortable in the performance of her activity. She even has words of gratitude for having been able to reconcile her personal and professional life without any problem, even during maternity periods.
She considers that the situation of women has improved significantly in the field of cooperatives, thanks to an increase in the number of professionals hired and the development of work in positions of greater responsibility.
However, she considers that there is still a long way to go in terms of the representation of women in the governing bodies of cooperatives. "Currently there are many women members, but they cede their functions to their partners, we are not making progress, we are still like my mother and father," says Isabel. She also considers that "although much progress has been made in recent years, unfortunately it is clear that the higher the level of responsibility, the less women are present".
In her opinion, the rural world is still too traditional. "Neither men make room for women nor women want to enter. In addition, there is an erroneous thought that everything is better than the countryside, and you have to train and go outside."
Therefore, Isabel concludes the interview by stating that "all this contributes to the fact that agricultural activity does not develop its full potential, and there must be a collective commitment that brings together families, professionals, companies and administrations to value the socioeconomic contribution of the cooperative world and the agri-food sector in general".
Loli Pozo
Administrative of the associated cooperative Olivarera de Pedrera, Seville.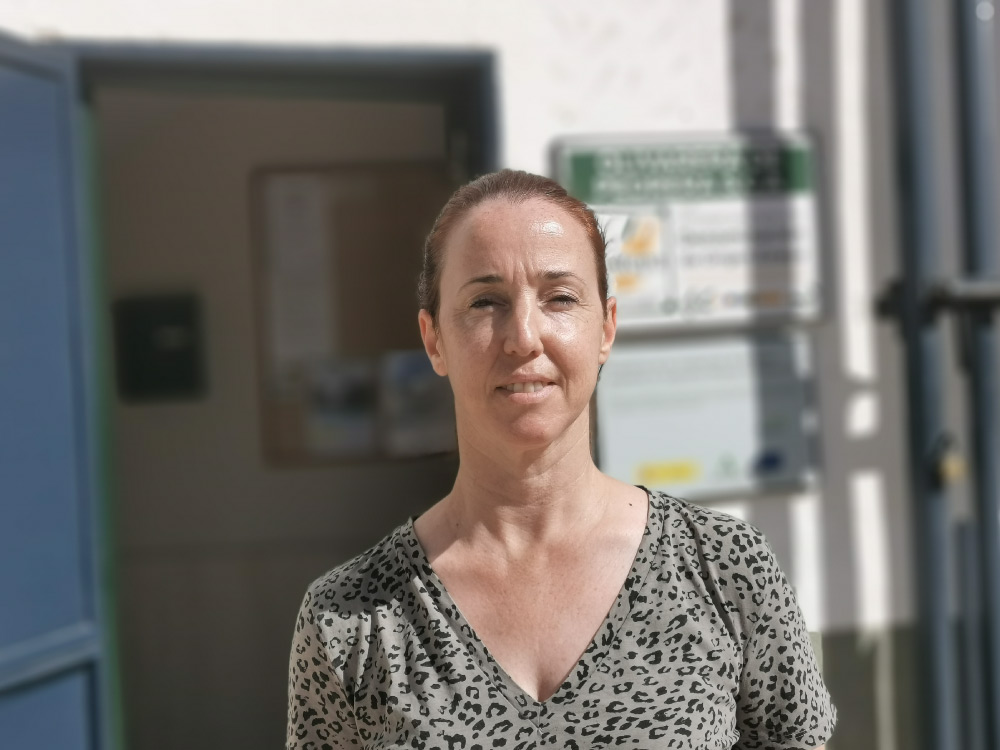 Loli Pozo, Administrative of the associated cooperative Olivarera de Pedrera (Seville).
Her professional relationship began more than 12 years ago, through a temporary contract to support the management of the reception of olives during the campaign in the associated mill.
At that time, her task consisted of validating the weight of the different loads of olives from the partners, handing hers a certificate upon completion. From the very beginning, she was struck by the complexity of the yard manager's job, who was responsible for directing each trailer to the corresponding olive press, depending on the type of olive and its condition. "I quickly understood the importance of this work in achieving a high quality extra virgin olive oil," says Loli.
Later, after the departure of a colleague in the administration area, the opportunity arose to fill this position. Loli gratefully confesses that "although it was clear to me that the job was more complicated and involved more responsibility, I didn't think twice when I received the offer".
However, the beginnings were not at all easy. "Looking back, I admit that the lack of credibility that I transmitted to the members affected me a lot, probably due to the fact that I was a young woman outside the world of the cooperative" recalls Loli, "but fortunately I did not have any really difficult situation, so that with tenacity and patience I soon won their trust, and even their affection!".
Throughout this process of training and adaptation to the job, she considers her relationship with her colleagues to be very positive and enriching. "Although I was a woman in a man's world, I never felt different among my colleagues, everything was supportive from day one," she says gratefully.
Loli recommends all young women to work in the cooperative world, especially if they like it, because, although the beginnings are hard, it is worth it.
On the level of experiences, she remembers the nightmares of the first days of each start of the campaign in which the olives would come out of the belts and torvas, and the oil would spill all over the mill. "I have now been able to achieve my fears, and there are no olives on the ground or in my dreams!" Loli points out happily.
Lidia Patricia Castillo Prados
Lidia Patricia Castillo Prados in El Rubio, Seville.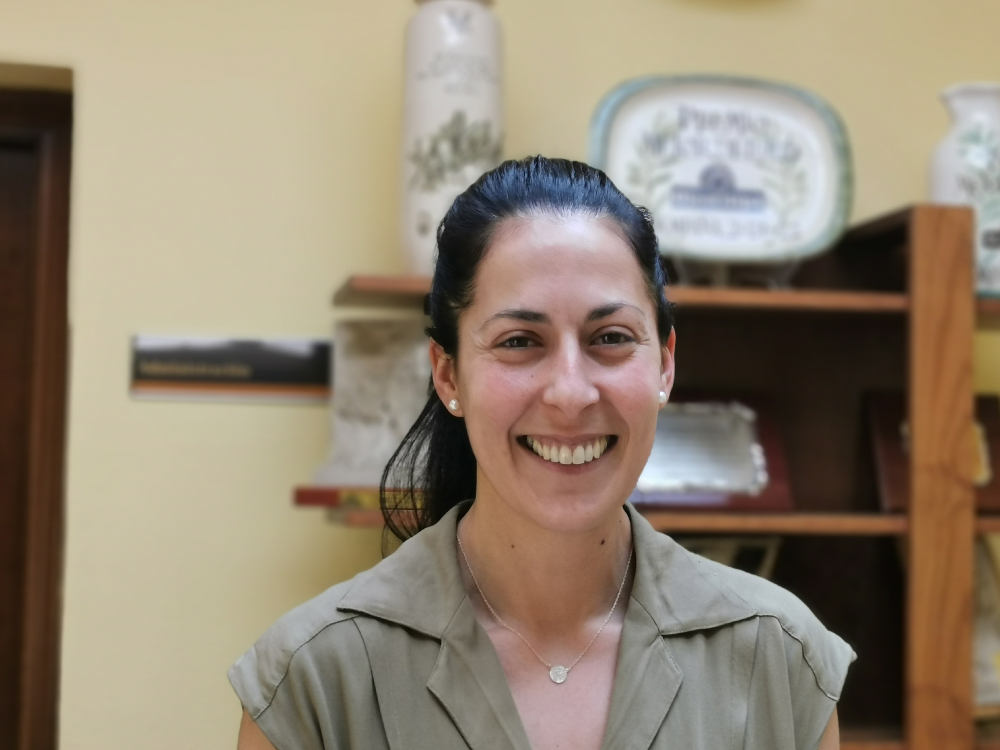 Lidia Patricia Castillo Prados, Administrator of the Agricultural Cooperative in El Rubio, Seville.
After finishing her studies in Finance and Accounting, she was lucky enough to do an internship in the cooperative of her town, Agrícola El Rubio. Her enthusiasm and commitment from the beginning earned her the trust of the management in the form of a temporary contract of 6 months, but which has lasted until today, that is, 6 years later.
In this period of time he confesses to us that his situation in the cooperative has changed a lot since he arrived. "In my beginnings it was very rare to find women in the cooperative and even less so young, and the farmers did not dare to trust the advice of a young woman" recalls Lidia, and adds that "those who dared to consult me also consulted a colleague to make sure". There is no rancor in her words and a lot of understanding, because "I understand that at that time a farmer would give total credibility to the information of a newcomer". This obstacle was smoothed out with time and the daily relationship with the partners, "I already feel that my advice and recommendations are well valued, and in addition to trust I receive gratitude and affection," says Lidia, satisfied.
Although she is not trained as an API expert or technician, she likes to keep abreast of all the latest developments in order to be able to give correct advice to farmers who need it. To do so, she admits that "here you never stop learning, you have to be up to date in everything related to the agricultural and cooperative world, to be able to respond to our associates".
She recalls the years when she was the only woman in the cooperative's offices and how she missed being able to count on the support of another woman. Although she has always felt very supported by her colleagues, she admits that "sometimes it was hard to live in a man's world. Fortunately that is in the past and the current reality is different, more egalitarian.
However, she considers that the cooperative's main handicap today is the advanced age of its members. "It is necessary for young people to be incorporated into the life of the cooperative, to take the initiative and participate in the cooperative's governing bodies. It would be perfect to find a formula in which the dynamism of youth is combined with the wisdom of the elders," admits Lidia.
Finally, when asked what aspect of her job she likes the most, she answers emphatically that it is the way she deals with people. "I feel very fulfilled as a professional and as a person when I help to solve the problems of the associates and promote new projects, and of course, when they transmit me the experiences of all the people who pass through the office every day," Lidia says gratefully.
María del Mar Matas García
Head of the Reception Area of the associated cooperative Agrícola in El Rubio (Seville).
María del Mar Matas García, head of the reception area of the associated cooperative Agrícola in El Rubio, Seville.
Although she has been professionally linked to the associated cooperative in El Rubio for 13 years, her connection with the olive grove goes back much further, carrying out olive harvesting tasks simultaneously with her studies.
Her experience in the reception area of this associated cooperative began with olive sampling in the unloading and cleaning tasks. "At first I was shocked by the great importance given to cleaning, but I soon realized that it is essential so as not to negatively affect the oil obtained" recalls María del Mar.
Although she recognizes that, at that time, she still didn't know much about everything related to olive oil, these years have served her to acquire knowledge through experience and, of course, by attending courses organized by her own cooperative and by Oleoestepa.
When asked about the main changes he has experienced during this period, she highlights the constant renewal of machinery. "There are people who are nostalgic about the ways of doing things in the past, in the olive sector it is quite the opposite, technology is our best ally, it makes our work easier by making it faster and with less effort, obtaining the best possible quality" recognizes María del Mar.
Although the beginnings were hard, with sexist comments that underestimated her ability to handle heavy machinery, she did not shrink back and was soon able to prove that a woman is just as valid as a man. "Fortunately, there are more and more women in the cooperatives and little by little these types of perceptions are diminishing," defends María del Mar.
She wants to send a message of optimism to future generations. "I know that the world of agriculture and its industry are hard and sacrificing, but it is very comforting to work in a cooperative project, we all add up".
Miriam Pradas Luque
Oil Master Miller at the Cooperative Agrícola de El Rubio (Seville).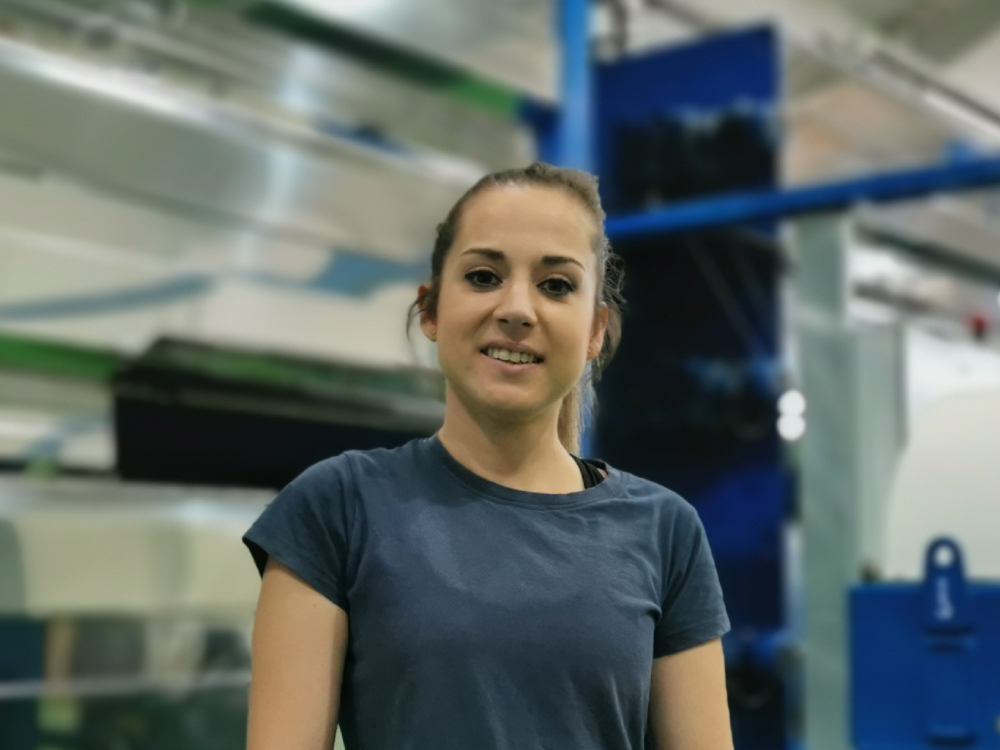 Miriam Pradas Luque, oil master miller at the cooperative Agrícola de El Rubio.
Prior to joining the cooperative, she spent the first years of her professional career in the fields harvesting olives. "This experience helped me to see how hard the field is and to appreciate the efforts needed to obtain olive oil," says Miriam.
Her beginnings in the cooperative were in the sorting area in the dressing section, but after two years she was offered the opportunity to join the team of mill masters and she didn't accept the challenge and has kept it until today.
Although she confesses that "the way you learn is by working", she is aware of the importance of theoretical training to be up to date with the latest technical advances, which is why she is attentive to the offer of face-to-face and online seminars and workshops, valuing very positively the training courses that Oleoestepa periodically organizes. However, she also recognizes that she learns a lot by asking her colleagues. Miriam acknowledges that "Listening attentively to colleagues from our team or from other olive oil mills has been very useful to me over the years".
She tells us that her beginnings were very hard. She remembers always carrying a notebook with her, taking notes and looking for all the doubts that arose on the Internet to learn and be able to do her job correctly. "But little by little I learned and each time the stress and tension is less and less, and the desire to return the next day is greater," says Miriam optimistically. She also acknowledges and is grateful for the invaluable support of her partner Jesús throughout this time, and that at no time has she felt undervalued for being a woman. In fact, at all times they have taken into account her family situation, allowing her to easily reconcile work and personal life.
Finally, she recommends to all boys and girls, to the new generations, that they should dedicate themselves to agriculture, because although "sometimes it seems that to dedicate oneself to agriculture is for losers, to work in the fields you also have to be good and you never stop learning".
Administrator and Director of the credit section at the Olivarera de Casariche cooperative (Seville).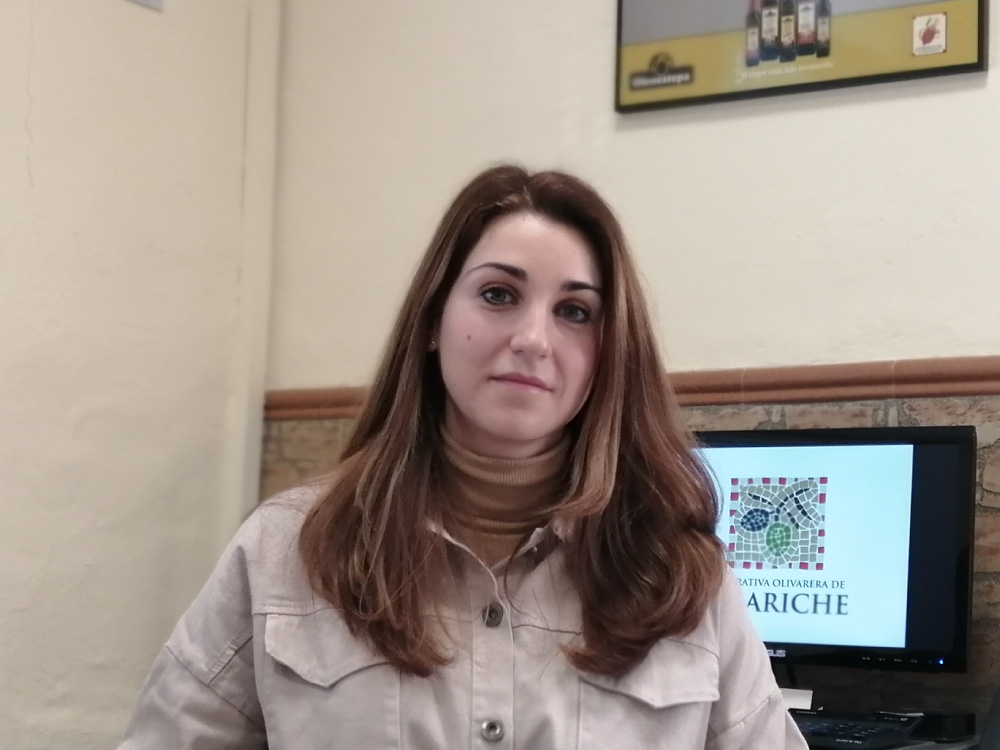 Virginia López Rodas, administrator and director of the credit section at the Olivarera de Casariche cooperative (Seville).
Virginia began her professional activity in the cooperative in 2006, covering a colleague's sick leave. What began as a temporary assignment has become a job of more than 15 years. She tells us that her beginnings were hard, as she was very young and had no previous professional experience, "I had recently finished my university studies in Business, so I had no work experience. Although she recognizes that all her colleagues did their best to help her, they also had no knowledge of accounting, "so I had little technical help, but a lot of support". She made up for this lack of experience with desire and determination to learn, and in a short time she managed to optimally manage the cooperative's accounting.
As time went by, her responsibilities grew, so that when the need arose for a director of the credit section of the cooperative, the Board of Directors entrusted Virginia with this task.
When she started working in the cooperative's offices, her two colleagues were men and the cooperative's governing body, the board of directors, was made up entirely of men. In short, she was the only woman in the management part of the cooperative, a fact that was also true for the assemblies where more than 100 members attended and where she was still the only woman. "At the beginning this situation intimidated me and made me very nervous when I had to present the accounts, but I never received a bad comment for being a woman, I was always recognized for my professionalism" recognizes Virginia.
"I had to convince women members with whom I had permanent contact in the cooperative, in charge of the daily work of their olive farms, that it was necessary for them to also attend the maximum government of the cooperative, the assembly, because their opinion is as respectable as that of any other member" she recalls with joy, since with the passage of time she has been achieving a greater participation of women, "in the last assembly that was held between 15 and 20% of the attendees were women".
On the administration side, Virginia considers that women have always been well represented, although this has not been the case in all areas of the cooperative. Although, as with everything, over the years, fortunately this has been changing, with women being more present in all areas of the cooperative.
Despite having started working surrounded by men, she recognizes that she has always felt supported and helped by all her colleagues, convinced that working with men has never been difficult for her, but rather the opposite, they have always tried to help her, especially in matters such as family reconciliation.
As for the future, she is very clear that the development of the cooperative is linked to the recruitment of highly trained personnel, specialists in each of the areas of work. Hence he recommends to young people to be properly trained, to have enthusiasm and desire to grow the cooperative, because "it will contribute positively to the economy of all who live in Casariche".
Inmaculada Rangel Fernández
Taster of the Oleoestepa panel and Manager of her family farming business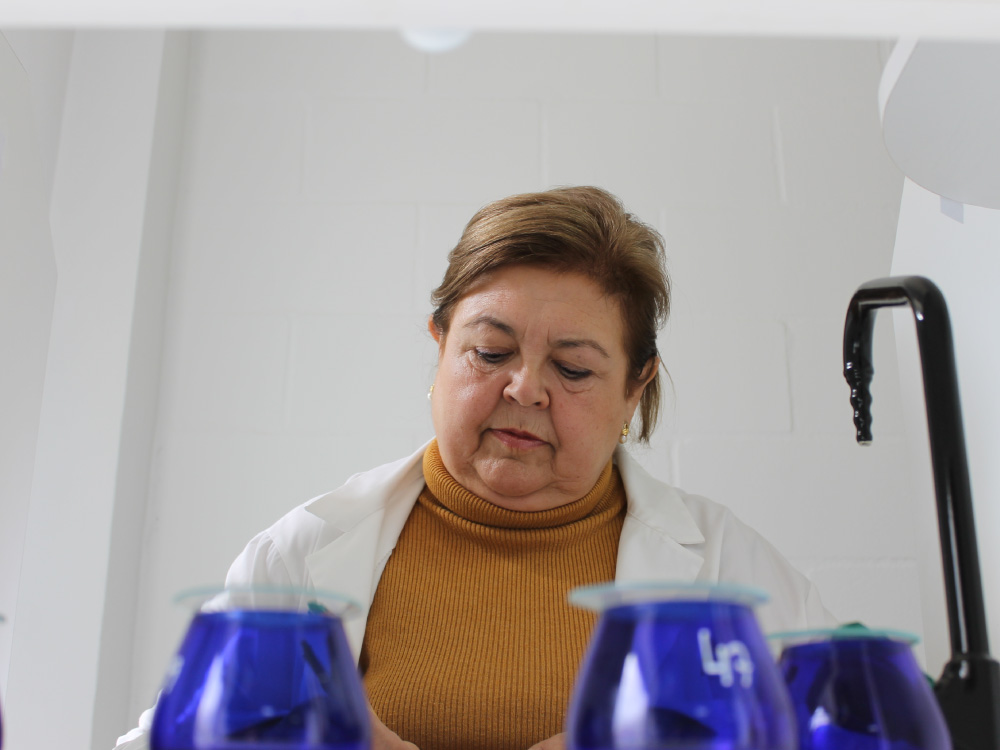 Inmaculada Rangel Fernández, taster of the Oleoestepa panel and manager of her family farming business.
Her connection with olive growing goes back a long way, to family tradition. Her close ties to the world of olive growing since her childhood have led her to a constant desire to learn more about extra virgin olive oil.
With this in mind, she began her career as a taster on the Oleoestepa tasting panel more than 25 years ago. All these years of experience tasting olive juices have served to prove to her that quality must be above quantity. And as a farmer, she manages the farm with this in mind: "to obtain healthy olives in a sustainable way and to harvest them at the optimum moment," Inmaculada points out.
Inmaculada explains that when she started, there was a great inequality between the urban and rural worlds. However, Inma affirms that "Although they still exist today, the differences are no longer so noticeable, thanks to the constant revaluation and professionalization of the agricultural world achieved by all of us".
As for the role of women in this rural environment, she corroborates that their presence has also grown a lot in recent years, and defends that "there are more women both in agricultural tasks and in positions of responsibility such as the board of directors of the cooperative, so that a better representation of women in rural areas is being achieved". Fortunately, in her professional career as a farmer, she has not encountered any obstacles in carrying out her tasks, but even so, she recognizes that the figure of women was limited in the cooperative to office tasks, "back then the fields were only for men", recalls Inmaculada.
She encourages all young people, both girls and boys, to develop their lives in the rural world "because there is a future". Inmaculada is proud to talk about her daughter Irene, who has also decided to dedicate herself to this sector and although she is currently abroad, gaining experience and finishing her studies, she is convinced that she will return to continue with the family business.
Inmaculada confesses that when she signed up for the first tasting course given by Oleoestepa she never thought that "this would come to this point". And she recalls with irony how in the first introductory tasting courses there were participants who, when faced with atrophied oils, categorically defended that "this is really good". This is a clear example of how much the olive oil sector has changed in recent years in favor of quality, since "the oil that was recognized as good quality 20 years ago is now undoubtedly an oil with defects".
Rosa García Reina
AIP technician at associated cooperative Olivarera Sor Ángela de la Cruz in Estepa (Seville)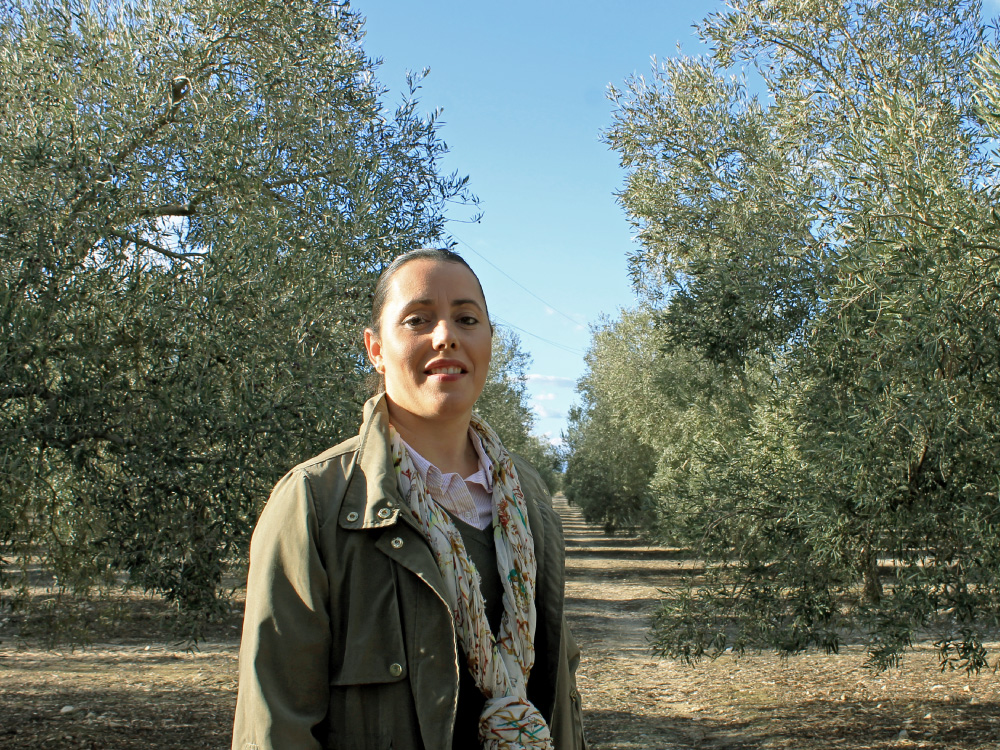 Rosa García Reina, AIP technician at associated cooperative Olivarera Sor Ángela de la Cruz in Estepa.
Despite her youth, she has almost 15 years of experience in agricultural consultancy work for the associated olive growers, collaborating in the modernization of the agricultural fabric "to achieve a more sustainable and efficient crop, but always seeking the highest quality," Rosa points out. She was fortunate to finish her studies in Agricultural Engineering just at the moment when the implementation of the sustainable certificate of Integrated Production began, being necessary for the incorporation of technicians in the associated cooperatives.
Rosa tells us how in these years she has experienced many changes, especially in the way of working, due to technological advances. "When I started my working life there was no digitalization as there is today, we knew what was done in the field and the farmer was advised by the technicians, but today, in the era of digitalization, everything is known more precisely, we have more data on everything".  In this regard, she highlights the use of satellite images in the cloud as an aid when making predictions and specifying the use of more efficient resources.
She also highlights the help that technology has provided in the document management of the implementation of sustainable agricultural and production techniques required by the Integrated Production seal. "Every action must be recorded in the workbook of each farm, so the new computer tools are our allies, as they help us to reduce the work of monitoring and control," Rosa points out.
Her responsibility begins with supervising the agricultural activity of the associated olive growers, controlling pests, diseases or any problem that occurs in the olive grove. In her permanent communication with the farmer, she advises him on the optimum moment and the treatment to carry out on the crop, allowed by the rigorous protocol of the Integrated Production seal.
Rosa confesses that the main difficulty in her advisory work is to combine the farmer's profitability with the environmental sustainability of the field and the consumer's food safety. "The use of phytosanitary products is very restricted, always guaranteeing environmental sustainability and maximum quality oil without chemical residues," Rosa acknowledges.
Despite being the only woman in the cooperative since the beginning of her work, she has never felt undervalued. Rosa confesses that "I have always received the support of my colleagues and associated farmers, respecting my advice and decision making".
Currently she is not the only female agricultural technician in charge of the implementation of Integrated Production. One more example of the incorporation of women in the cooperative world, also in the field of agricultural engineering, which comes in addition to other administrative, technical or industrial work, already carried out by women in the various cooperatives that make up Oleoestepa. However, she considers that it is still necessary to continue advancing in the incorporation of women in the rural world to achieve real equality.
Looking to the future, Rosa recommends to all young people who like agriculture and the rural environment to train and make an effort. "There are many people who do not consider a profession linked to the countryside interesting, but I think it is because of ignorance. It is a sacrifice, but it is also very satisfying, since the fruits of the effort are very palpable," Rosa points out.
Finally, she highlights a very important change that she has also had the opportunity to experience in these years: the progressive professionalization of farmers, closely linked to generational change. And he comments that "nowadays the field is seen as a business, so it has to function, hence the need for professionalization".
Magdalena Borrego Haro
AIP technician at the associated cooperative San Isidoro de Gilena (Seville).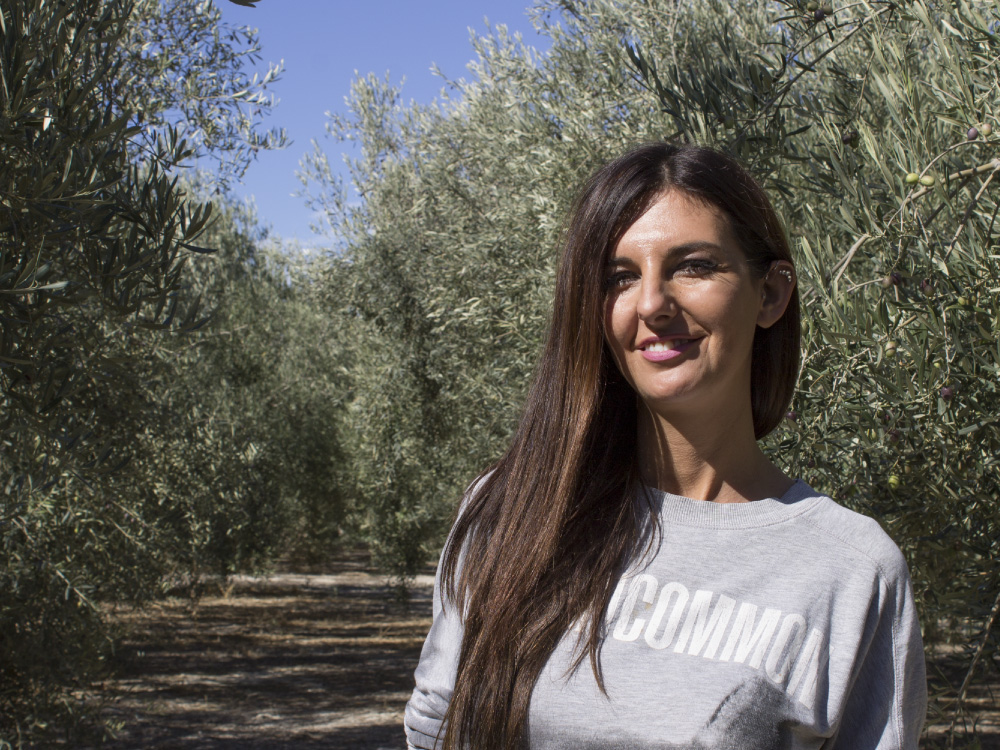 Magdalena Borrego Haro, AIP technician at the associated cooperative San Isidoro de Gilena (Seville).
Her professional career in the cooperative could not have started off on a better foot. She finished her studies as an Agricultural Technician and a few months later a job opportunity arose in the management of olive reception in the 2002/03 campaign. Although she started with a temporary contract, her courage and tenacity have led her to increase her level of responsibility during her almost 20 years linked to the cooperative, currently working as an agricultural technician, in charge of agronomic advice to members and the implementation of sustainable production techniques certified with the Integrated Production seal.
Magda recalls that "it was not easy to make her way in a world of men, where they were not used to receiving advice or guidelines from women, much less from young women". She had to prove herself day after day until she managed to overcome these initial misgivings.
She complements her work as a technical advisor with that of taster on the Oleoestepa tasting panel, a task that she considers of great value and with total synergy with the activity in the oil mill when it comes to classifying the oils correctly and not making mistakes during the production process.
Although she considers that women have been achieving greater presence in the cooperative world in recent years, it is clear that "unfortunately there is still a long way to go", and she gives as an example of this, the reduced participation of women in the main bodies of power of a cooperative: the Assembly of Members and its Governing Council. "In the case of our cooperative, the presence of women in the assemblies does not usually exceed 1%, and the Governing Council is made up exclusively of men".
The desired balance passes irremediably through a greater incorporation of women in the agricultural activity, hence she advises young women who like the field, to try and not shrink in the face of difficulties. "Unfortunately, they will have to prove themselves more than men, but, even so, let them fight. Every effort has its reward," Magda says optimistically.
Lola Nogales
Oil Mill Master of the associeted cooperative Olivarera San Isidro de Gilena (Seville)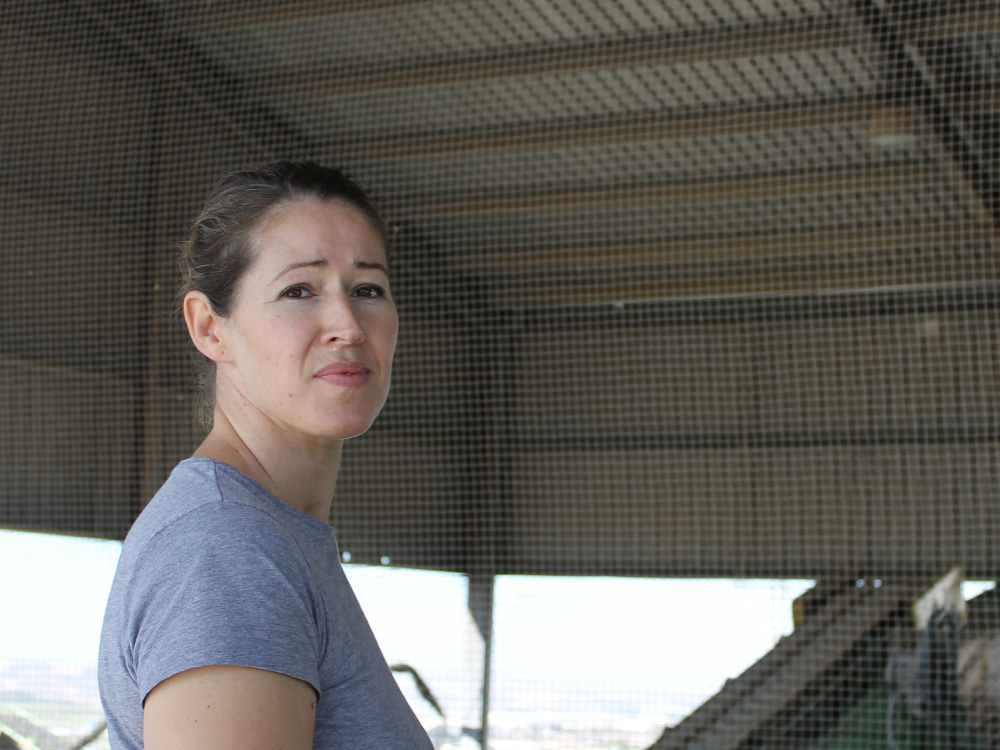 Lola Nogales, oil mill master of the associated cooperative Olivarera San Isidro de Gilena (Seville) is an example of the incorporation of women in strategic roles in the production process of extra virgin olive oil.
Despite the short time she has been working in this sector, she has found that technology is her great ally, so she is very clear that the future of the associated olive oil mills necessarily involves a continuous modernization of facilities and machinery.
She feels very grateful for the human team with which she works, and at no time has she been affected by the fact that she is a woman in a mostly male environment. "I always find a enthusiasm to collaborate among my colleagues, and the welcome I have received has been excellent".
She considers that women are increasingly represented in the world of agriculture and are not only present in the administration or in the classified, but also in the "battlefield", in the extractive process of extra virgin olive oil.
Lola wants to end this interview by encouraging everyone to "fall in love with extra virgin olive oil", to delve into its culture, both children and adults. "Regardless of any factor, age, sex or race, all of us who live around this cooperative project must become more interested in the world of the olive grove and, of course, encourage our surroundings to discover it. I'm sure they will love it.
Sophie Girona
Farmer member of the associated cooperative San José de Lora de Estepa (Seville)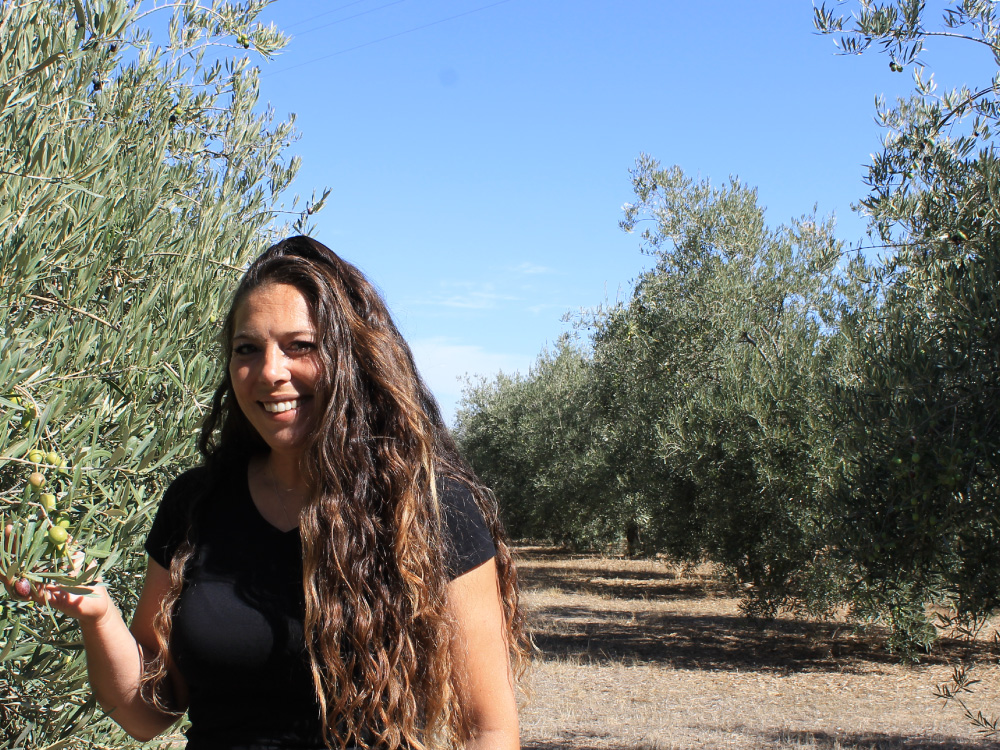 Sophie Girona is a farmer member of the associated cooperative San José de Lora de Estepa (Seville).
Seven years ago she decided to make a drastic change in her life, changing her cosmopolitan life in Paris for a quiet life in Lora de Estepa, a small village in the region of Estepa, with her partner who has ancestors in this municipality.  Here she became aware of the value of sustainable agriculture and the protection of the natural environment of the region. He currently manages and cares for an organic olive farm.
Since she took the reins of the olive farm she regularly attends the cooperative's assemblies, and although there is still not a total balance, she says that "there has been a noticeable increase in the attendance of women at the assembly, the place where important decisions are made, and a greater participation".
In her day-to-day life, she feels that there is a lack of training opportunities for women farmers, which would provide the necessary security to take the big step towards olive grove management. For her, not having specific training or resources for training and learning has been a handicap in her immersion in the rural environment.
As a "woman of action", she prefers field work to administrative tasks. The technification of the machinery used in the field makes them lighter and more ergonomic, thus allowing their use by women, so she adds that "these lighter tools are essential to facilitate my daily tasks in the olive grove".
In this process of immersion in the world of olive growing, the valuable contribution of the cooperative's technicians stands out. Her ongoing advice on agricultural techniques suitable for organic farming has been key to bring it to fruition, noting that "without the support and information from the experts of the cooperative my organic olive grove project would not have been possible, so I will be eternally grateful".
Before saying goodbye he wants to send a message of hope to young people, boys and girls, encouraging them to be part of this cooperative project, and urging them to be trained and participate in the various spaces where the production process of extra virgin olive oil takes place. "In short, without their participation, this cooperative project and by extension, this region dedicated mainly to the cultivation of olive trees, has no future," Sophie concludes.
Inmaculada García
Farmer member of the associated cooperative San José de Lora de Estepa (Seville)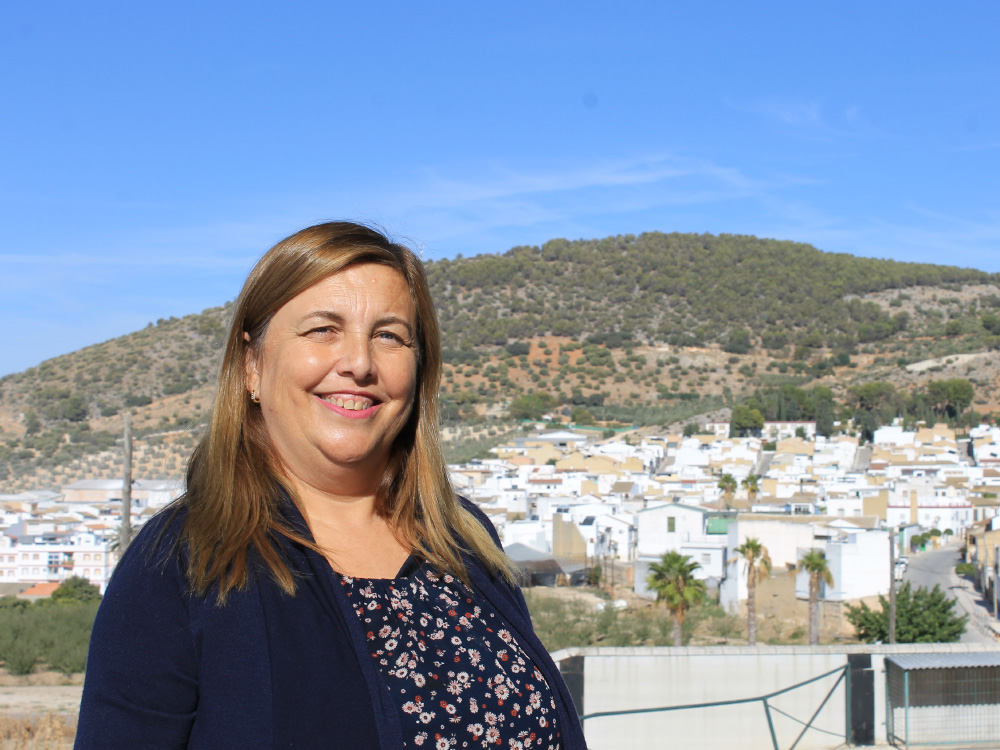 Inmaculada García Haro is an employee of the associated cooperative Olivarera San Isidro de Gilena (Seville).
For 20 years she has worked in the administration area of the cooperative, incorporating during her career the management of the warehouse, diesel and everything related to the purchase and sale of phytosanitary products.
She recognizes that the traditional role of women in the cooperative was limited to the task of sorting olives and cleaning the facilities, and that for this reason she had to pay the price for being a pioneer in new areas of work that until then had been purely masculine. "I was the first woman to work in the cooperative's offices, and it wasn't easy. All the workers and members were men, and they were astonished when they found a woman working in the administration of a cooperative."
But fortunately she has also been able to see in these years that the situation has changed radically and that, "although there is still a long way to go, the presence of women in this cooperative is already significant". She also highlights the increase in the number of female farmer members who are taking the step towards management "without depending on their husbands to manage the fields".
Although the situation is improving, she calls for greater participation of women in the cooperatives' representative and power bodies, pointing out that "the more women there are on the Governing Council of a cooperative, the better it will be".