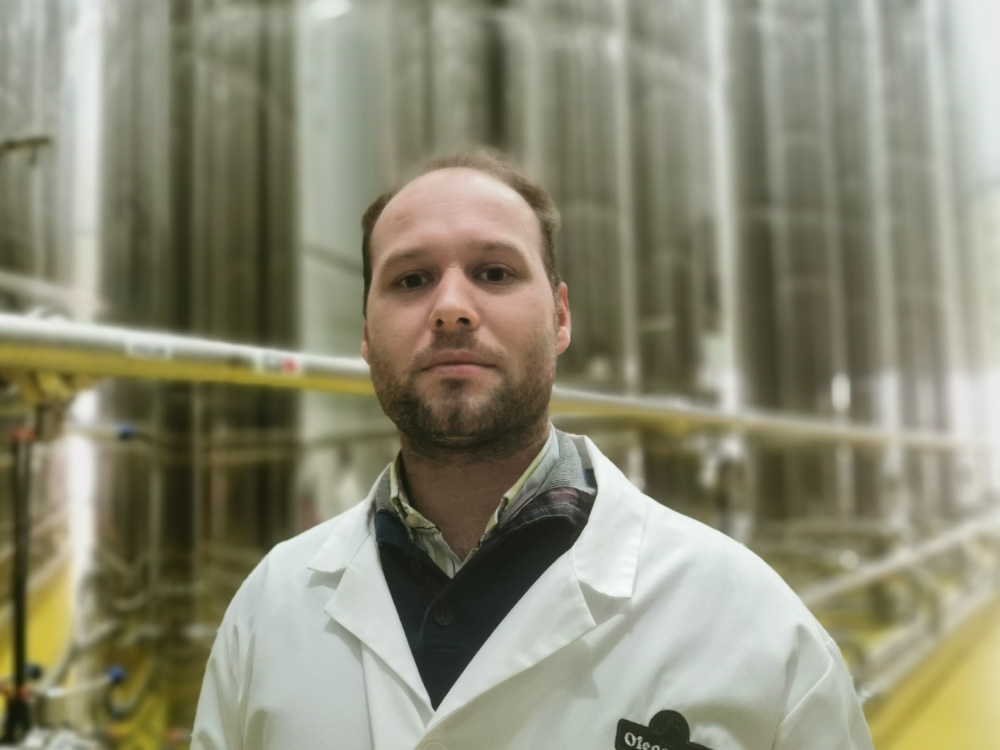 Arístides Sevillano Suárez  
Oil mill master at the associated cooperative Agropecuaria in Herrera (Seville)
Arístides Sevillano Suárez, oil master miller of the associated cooperative Agropecuaria in Herrera (Seville).
About six years ago, when the oil mill merged with the table olive cooperative, the need arose for a production management that would encompass both activities. It was at this time that Arístides appeared on the scene as the person in charge of the quality of the olive oils produced in this mill.
During this period, to his technical studies in Agricultural Production and Production Supervision he has been adding the continuous technical training that Oleoestepa periodically programs and new studies of Technician in Process and Food Quality. "Technical information is fundamental, but also knowing how to value the product," Arístides points out as the main reason for developing tasting courses, also given by Oleoestepa.
During the campaign it is more complicated for him to combine his work as production manager with his training as a Process and Food Quality Technician and the training courses to belong to the Oleoestepa tasting panel, but he points out that "this extra effort compensates me because it has a direct application on my daily work in the mill".
His task in the cooperative is focused on directing all the operations of this industry, as well as the management of the raw material and the human team. Before the campaign, he directs the preparation tasks to guarantee a total set-up. "During the campaign, I prioritize my efforts to convert the raw material provided by our farmers into the best extra virgin olive oil possible". In his opinion, maximum cleanliness, minimum time (6-7 hours) and temperature always below 27ºC are the key factors for extracting a juice with the best possible organoleptic properties from the olives harvested by the associates.
Looking back, he highlights what the commitment to excellence has meant for the mill. "The cultural change and the way of doing things has been spectacular. Although we have had the support of the old master, I would like to convey my pride and gratitude to the entire technical team of the mill; together we are making it possible", concludes Arístides.
All interviews of oil masters mill: https://bit.ly/35qlqBS