The new campaign's Oleoestepa extra virgin olive oils comes with a very practical and sustainable gift: a reusable RPET shopping bag.
World plastic production has gone from 1.5 million tons in 1950 to 359 million in 2018. The progression continues to rise, because only three years earlier, in 2015, the quantity was 322 million tons. At this rate, it is expected that it will reach 400 million very soon, if it has not already been reached. Production suffered a big drop during the first half of 2020 due to the Covid-19 pandemic, but recovered in the second half of the year. This unstoppable growth in production means an increase in waste. Anyway, plastic bags are one of the main problems in terms of waste management worldwide.
Most are used for a very short period of time and although they are recycled without problem if we deposit them in the plastic container, it is important to raise awareness to try to reduce their use by looking for an alternative: the reusable shopping bag.
These reusable bags are the most sustainable way to transport products, whether to go to the supermarket or any other function, helping all of us to reduce tons of plastic waste.
In our commitment to sustainability and the circular economy, and contributing to the Sustainable Development Goals (SDGs) 6, 7, 8, 9, 12, 14 and 15, Oleoestepa has already launched the first extra virgin olive oil in a 100% recycled plastic bottle. Now we are responding once again to the requirements established in our Corporate Social Responsibility program, proposing a solution to the need to transport products in a sustainable way. With the Oleoestepa recycled plastic bag, we are helping to eradicate the use of single-use plastic bags, while giving a second life to recovered plastics (water bottles, soft drinks and other containers), promoting the circular economy.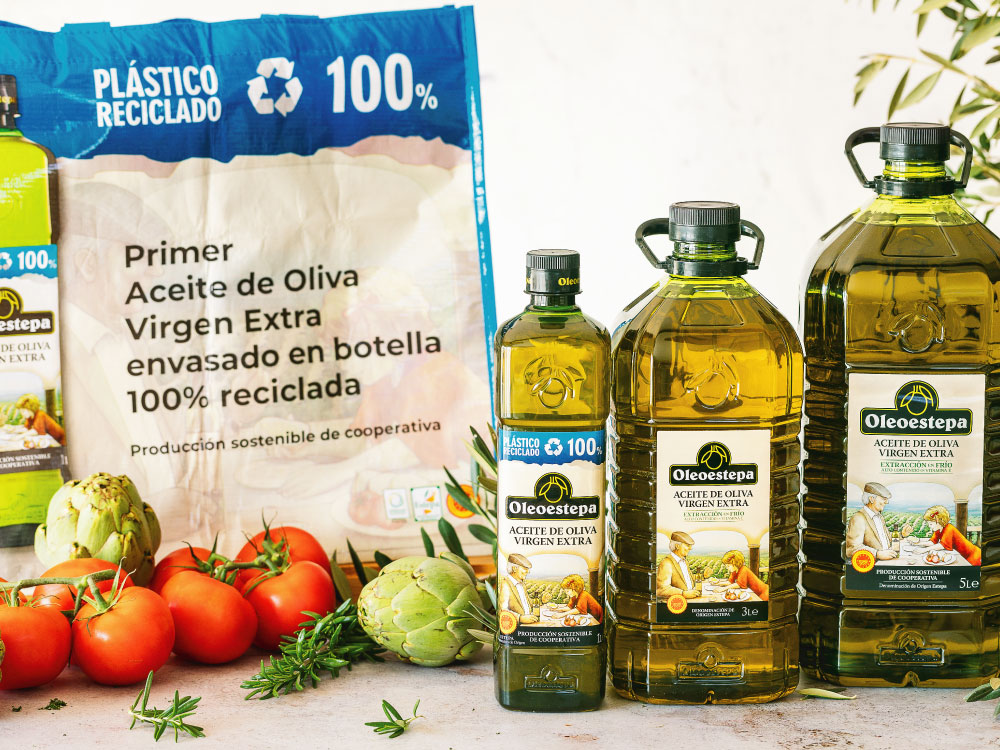 The Oleoestepa RPET shopping bag is made from recycled plastic, in order to promote the reuse of plastic waste and to contribute the sustainability of the planet. In 140 g material, it allows a content of 12-15 kg in weight, its short and long handles and reinforced base allow for a versatile grip.
Incorporate this bag into your everyday shopping to make it more environmentally friendly. It is durable, breathable, easy to wash and store.
Besides, they are not only bags to buy groceries, fruits and vegetables, but also have other functionalities in various situations.
You can get this sustainable gift for the purchase of a case of 5 or 3 liter bottles of Oleoestepa extra virgin olive oil.
The promotion is valid while stocks last.
You can get more information about our sustainable innovation by clicking here.