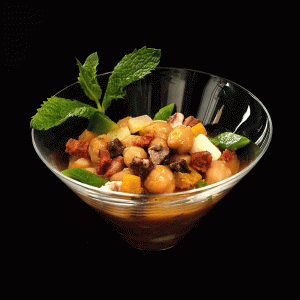 If using dried beans, soak the beans overnight in water to cover, then drain. Or, to quick-soak the beans, rinse them well in cold water, place them in a large pot and cover with 3 inches of cold water. Bring the water to a simmer, remove from the heat and let sit for 1 hour; drain.
Rinse the garbanzo beans. Place them in a large saucepan, add 1/2 teaspoon of the Aleppo pepper and the garlic, and cover with 3 quarts water.
Bring to a low simmer and cook, uncovered, for 1 to 1 1/4 hours, or until tender.Remove the beans from the heat, add the salt and thyme and let stand for 15 minutes.Meanwhile, in a small bowl, whisk together the Dijon mustard, the remaining 1 teaspoon Aleppo pepper, the smoked paprika, lemon juice and vinegar. Whisking constantly, slowly add the oil. Add salt to taste if necessary.In a large bowl, toss the fennel and red onion with 3 tablespoons of the vinaigrette.
Drain the beans and discard the thyme and garlic. Toss with the fennel and onion—the heat from the beans will soften the vegetables slightly.Stir in the parsley and toss with the remaining vinaigrette.
Ingredients
2

cups

dried garbanzo beans or two 15-ounce cans garbanzo beans, drained and rinsed

1 1/2

teaspoons

Aleppo pepper or red pepper flakes

4

garlic cloves, smashed and peeled

3

tablespoons

kosher salt, or more to taste

2

fresh thyme sprigs

1 1/2

teaspoons

Dijon mustard

2

teaspoons

smoked paprika

1/4

cup

fresh lemon juice

2

tablespoons

white wine vinegar

1

cup E

xtra Virgin Olive Oil Oleoestepa Selection

1

fennel bulb, trimmed, cut in half, cored and thinly sliced (about 4 cups)

1

red onion, cut in half and thinly sliced (about 3 cups)

1/2

cup

finely chopped fresh Italian parsley
Extra Virgin recomended: Oleoestepa Selection